My favorite restaurant in the entire world, The Grapevine Cafe, centered in the heart of the Donaldsonville historic district on Railroad Avenue is calling for me at 5:30 AM as I write these thoughts. As a local who's office is on the neighboring Lessard Street, it was always my dream to work on their restaurant's. And not too long ago, I was able to get the chance. When Brent Barbier, the new owner called me up I jumped on the opportunity. See, this was a milestone in my career -I thought that if could be a part of something so grand and as The Grapevine Cafe, I knew I was getting somewhere in life.
http://grapevine.cafe/
I remember times when the restaurant was closing after dinner and  I had just walked in, only to turn around when we noticed it was closing. Brent ran out can called for us to take a seat. I was humbled by his kind gesture and when he called for my services, I was equally ecstatic. Kindness goes a long way in small towns. Now, we agreed on a template for the site and I went to work on it. I choose a template because it would allow me to focus on the photography. With a friend and fellow photographer, Chad Sanchez and I enjoyed the food photography experience as we were able to showcase the artwork that is the food of the grapevine. Let's talk about some of my favorite dishes:

Crawfish Cornbread topped with Southern Fried Fish Filet
Yes, it tastes as good as it looks and sounds. You know, I'm going to start with their side items. I've never been to a restaurant and wanted to write about their side dishes. The Grapevine Cafe actually has some killer sides. This main dish pictured above encapsulates the finest Louisiana cuisine. This dish is a true culinary heartbreaker (in a goodway). Take a trip, ask for this and you won't be disappointed. I'm also partial to the pecan crusted redfish.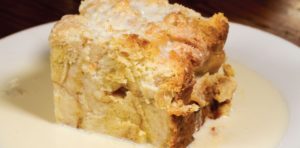 Award Winning White Chocolate Bread Pudding
Award winning this desert is. Served warm, I also enjoy it cold. Just depends on my mood and if it was taken home for leftovers. The portions are extremely fair at The Grapevine Cafe, and this dish is no exception. I've been told that this is the bread pudding for both those who don't eat bread pudding. It'll convert you in a second -I know because I'm one of the followers. This bread pudding is indescribably good and well made.
While I do work with The Grapevine Cafe as their website administrator, I was not asked to write this article. It's of my own volition.